The word 'disposal' is a roundabout way of getting to the word 'corpse'.  It happens to be something that is necessary to do with a corpse… one way or another.  What way will you choose?  Or will you let someone else make that decision (another great 'd' word) for you?  If so, who?  How will they know what you want?
What are the choices for disposal of a corpse here in Nova Scotia?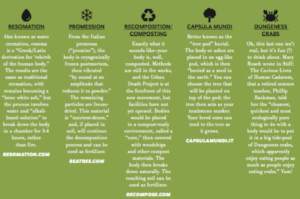 None of the above….. yet.
However, you do have the options of cremation, conventional burial, or green burial.  The former two have a significant negative impact on the environment.  The latter, however, replenishes our soils, and leaves a very minimal carbon footprint.
So, if you care about the method of disposal of your corpse, you might want to consider your options before you die, and document and share them with the folks who will be taking care of your body.
If you care about the environment, choose green burial…. for more information go to www.greenburialns.ca.