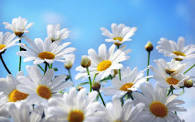 The dreaded "d" word.  The word we find ourselves unable to use.  In lieu of "dead", we say…. bite the dust, bought the farm, cash in one's chips, departed, expired, gave up the ghost, gone to meet one's maker, immortally challenged, in a better place, kicked the bucket, living-impaired, no longer with us, passed away, pushing up daisies, resting in peace, shuffled off this mortal coil, six feet under, with the angels, and many more euphemisms.
Anything but "dead"!
Go ahead… practice saying it out loud… "dead… dead…  dead".
Saying the word won't kill you.  In fact, getting familiar with the idea that becoming dead is inevitable may just bring renewed appreciation to every moment of your life!