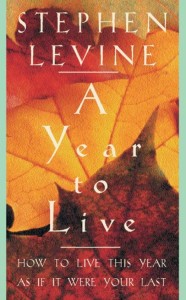 If you found out you were dying, would you be nicer?
Love more?
Try something new?
Well, you are.
We all are.
In this 12 month course we will explore areas of living and dying including forgiveness, fear, life review, personal directives, funerals, rituals, gratitude, bucket lists and much more.
Stephen Levine's book, A Year to Live, will be used as a guide.
All traditions welcome, inclusive, non-denominational.
We'll include passages from a variety of sources in the international and local healing communities such as, Acharya Emeritus Judith Lief, Andrew Holecek, Sogyal Rinpoche,  Roshi Joan Halifax, Tulku Thondup and others and potentially videos, and guest speakers.
In our monthly meetings we will explore together relevant topics such as:
forgiveness
fear and other emotions
funerals
gratitude
the act of dying
wills and personal directives
meditation
life review
after death
traditional rituals
and more