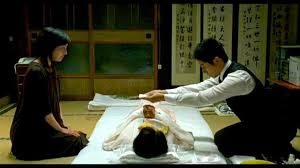 And we begin ….  with Oscar winning Departures.
Soon after buying an expensive cello, Daigo Kobayashi (Masahiro Motoki) learns that his orchestra is disbanding. Daigo and his wife move back to his hometown in northern Japan, where he answers an ad for what he thinks is a travel agency but is, in actuality, a mortuary. As he learns and carries out the rituals used in preparing the dead for their final rest, Daigo finds his true calling in life.
When:  Monday, May 7th, 2018 at 7 pm
Where:  Women's Council House, 989 Young Avenue, corner of Inglis, in Halifax
Please join us for the film, by donation only, followed by a brief discussion.
On the first Monday evening of each month, we will meet, enjoy a film and brief discussion.  Same time, same place.  Mark your calendars now.